BINUS UNIVERSITY Welcomed Universiti Teknologi Malaysia Delegation and Signed Memorandum of Understanding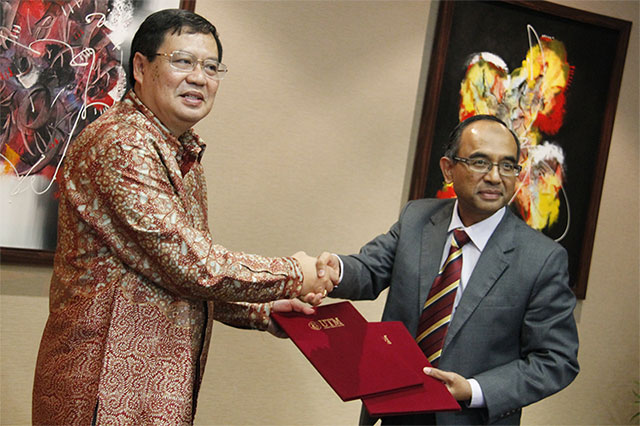 An agreement signing ceremony between BINUS UNIVERSITY and Universiti Teknologi Malaysia was held at Anggrek Campus, Friday, February 10. Prof. Harjanto Prabowo, Rector of BINUS UNIVERSITY and Prof. Datuk Ir. Dr. Wahid Omar, Vice Chancellor of UTM signed the General Agreement, which marked the formal establishment of cooperation between the two universities.
Prof. Harjanto welcomed Prof. Wahid?s first visit at BINUS UNIVERSITY and gave a brief introduction about BINUS UNIVERSITY. He also expressed BINUS? wishes to foster and deepen BINUS-UTM collaboration through the agreement in various fields, such as promoting faculty and student exchange, joint-research program, organizing academic conferences, among other possibilities of collaborations.
Universiti Teknologi Malaysia (also known as University of Technology, Malaysia or UTM) is the oldest premier higher learning institution specializing in engineering and technology. Since its establishment as a technical school in 1904, UTM has played a pivotal role over the years as the nation?s largest contributor of technical and professional workforce for the local industry, government agencies as well as multinational companies. The university has two campuses: the main campus is in Johor Bahru and the branch campus located in the heart of Kuala Lumpur, known as the UTM Kuala Lumpur Campus.